GB tennis health debated at Spring Forum
The new Spring Forum organised by the TIA UK and hosted by sponsors Pinsent Masons in its contemporary offices in Crown Place, London, was hailed a great success by the 40+ attendees from a range of tennis business interests.
The objective of the 2023 Tennis Business Forecast was to assess the health of GB tennis with the aim of being better informed as an industry to meet the current trading challenges and to be better focussed to take advantage of future opportunities. The aim was to look at a number of indicators of 'tennis health' and included an overview of tennis participation; tennis profitability in the commercial club sector; the strength of volunteer involvement and the level of facility investment; equipment sales; tennis coach businesses; pro events and innovation.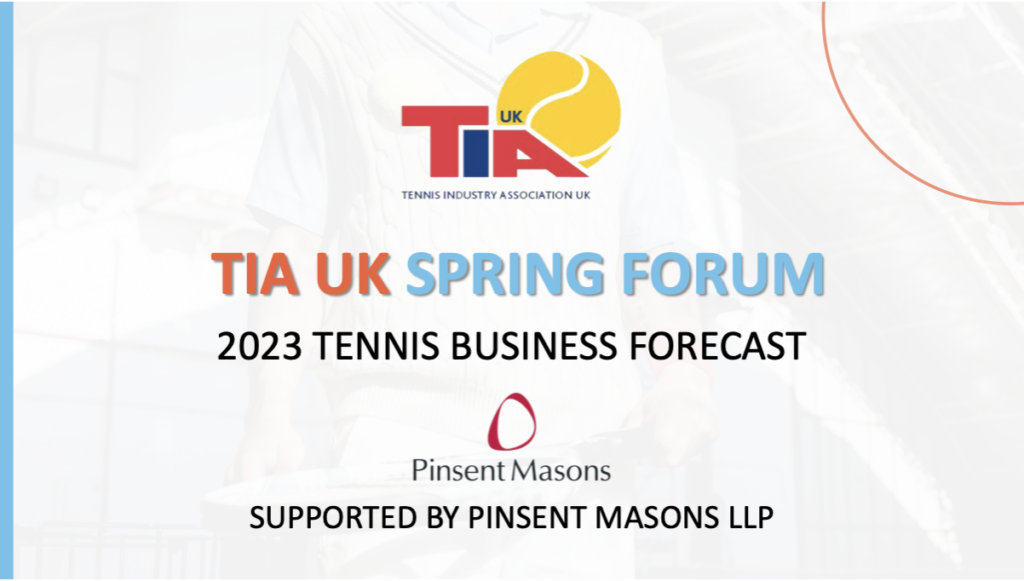 Phil Sandilands, General Manager of TIA UK led the presentations looking at some key comparisons with other similar European tennis nations and commented on racket and ball sale trends in Europe, with data kindly provided by Sporting Insights.
This was followed by a very comprehensive talk by Abbie Lench of the LTA who updated the audience on the excellent increase in participation figures, the strength of the volunteer force, facility investment and many other areas including club development and the uptake and drive of Padel.
Steve Matthews representing Virtus Leisure Management gave a very interesting perspective about the role of tennis within the commercial sector and outlined the real challenges this sector faced and why there was a crucial need for intervention to protect the GB indoor tennis estate.
Pinsent Masons though its Legal Director and Head of Tennis Désirée Fields set out the company's involvement in sport and some of the areas in which it wished to support GB tennis through its involvement with TIA UK. She presented her views on the importance of innovation in tennis and some of the ideas and products being developed to help tennis be at the forefront of sport and of entertainment.
Val Vladea of Wilson Sporting Goods looked at the importance of tennis coaches as ambassadors for the equipment companies and the vital skills that Wilson required to help drive sales. She outlined the marketing strategy of the Wilson brand in the UK which is based around activation and support to increase participation and overall wellbeing.
Finally Dom Hayes presented a progress report on the UK Pro League, both its successes (of which there are many) and its future challenges. The League is very important in business terms, not just because of the support and benefit it gives British players, but also for the wide-ranging impact it has to showcase the sport and create local investment and involvement.
The TIA UK and Pinsent Masons aim to produce a collaborative document later in the year, based on the content and outcomes of the Forum.
The event's success and value points towards the potential of organising a similar event each year, in order to consolidate and build upon knowledge of the business and economy of GB tennis.
CopriSystems becomes latest Partner Member
CopriSystems has become the latest Partner Member of TIA UK. The company has been providing tennis court construction and bespoke covering systems across the UK to LTA approved standards for over 30 years.
Whether you're looking to build a single court from scratch or enhance your existing multi-court facilities, CopriSystems can provide you with the covering technology you need, designed to your exact specifications. They can also act as principle tennis court contractors, preparing the groundwork, court surfacing, fitting out changing rooms and installing the internal fixtures to create the optimum environment for play.
CopriSystems' fixed domes ensure that play continues in comfortable conditions whatever the weather is doing outside or the time of day. Retractable side curtains deliver a flexible playing environment by allowing plenty of natural ventilation when conditions allow and the fabric covers let natural light permeate the courts during the day without any risk of the sun's glare disrupting your game.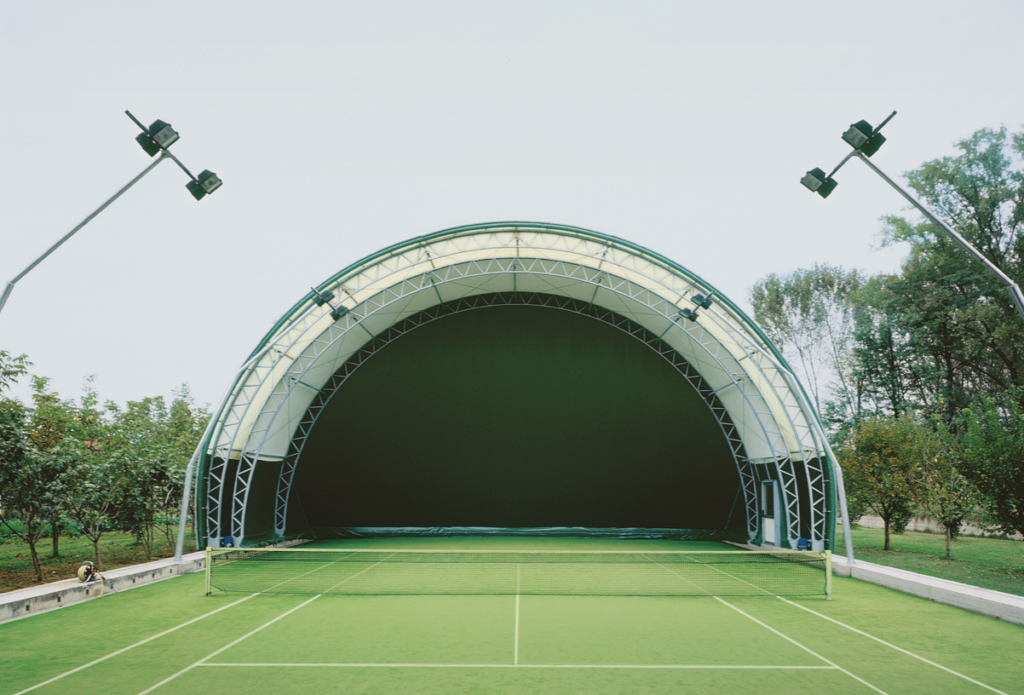 First-class indoor tennis courts help to create a sustainable future for clubs and this is certainly the intention at Moray Sports Centre where CopriSystems are currently installing a state-of-the-art four-court indoor tennis centre to enhance year-round participation and remove the barriers to play for people of all abilities and ages.
CopriSystems brochure on its range of facilities for sport can be found by clicking on the link below
Halton Tennis Centre's sustainability drive
Halton Tennis Centre in Bucks has have made notable leaps in reducing carbon emissions and improving the club's environmental performance since launching its 'Halton Project Zero' initiative almost a decade ago.
Nick Leighton, Founder, Director and CEO of Halton Tennis Centre said that the centre 'allied' environmental sustainability into the Centre's strategy mix, producing a fourfold approach that resulted in reducing their overall energy consumption by 33% today compared to when the project first began.
First, Leighton and his team were faced with building a foundation of understanding, engaging the Carbon Free Group who would advise on carbon neutrality, analyse the club's operations, and help design a plan with clear targets and goals.
After 12 months plus analysis of delving into measurements of their energy consumption, the Halton team examined technology 'lean – clean – green' solutions before beginning their quest, releasing a long rolling list of actions to be successfully implemented in the next 5-10 years. Some of these actions include:
Installation of six EV car charging points
Reducing energy consumption and introduction renewables that allow the club to power EV charging points with clean energy
Replacing the six boilers on site with alternative options, including air source and ground pumps
Solar energy – panels for all their suitable buildings
Switching their two Air halls to fixed structures with Solar panels
Fast forward to the results to date; in 2014 the club was producing 282 tonnes of CO2, whereas by 2019 this figure had reduced to 121, the equivalent to powering over 100 homes.
Leighton said "Our culture and thinking towards energy and waste has been the main change. When you have 20 or 30 people engaged in the change at the club – from admin to coaches and beyond – it makes a significant difference."
Let Us Know!
Jonathon and Jennifer – the TIA UK's Comms team – are always looking for members' content to promote on our social media platforms and in the monthly newsletter. Please remember to forward anything you think will be of interest to the tennis industry and promote your company and your products and services!