New TIA UK event to be hosted by Wolverhampton Lawn Tennis and Squash Club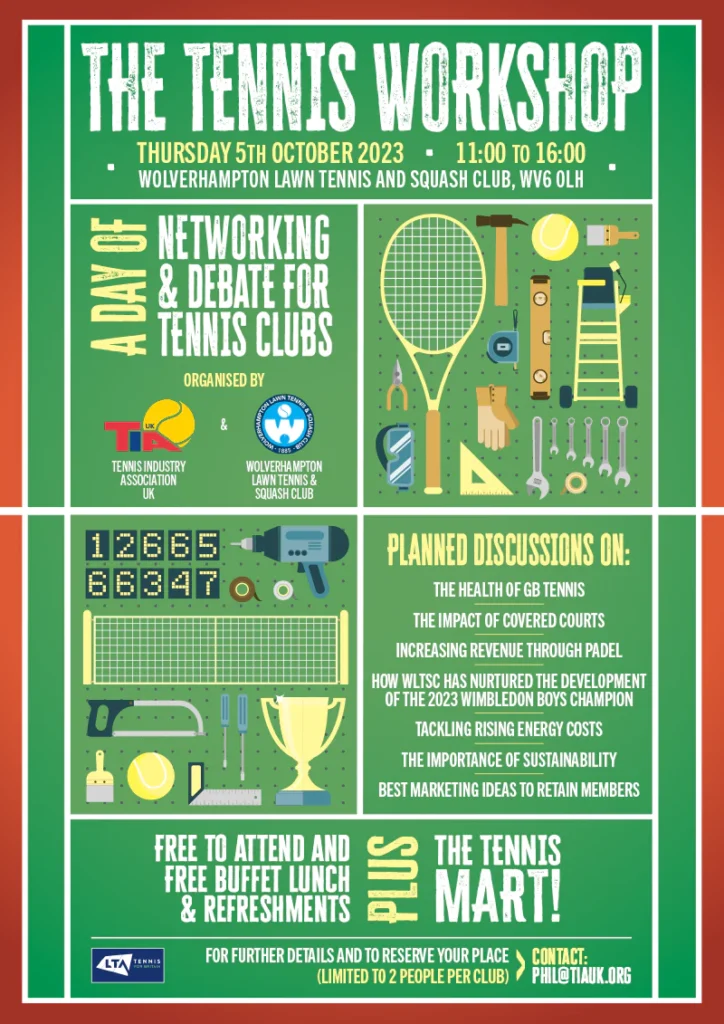 A new event organised by TIA UK is being held on Thursday October 5th in conjunction with the Wolverhampton Lawn Tennis and Squash Club. The Tennis Workshop and Tennis Mart provides an opportunity for large clubs in the midlands region to discuss business matters of mutual interest and to meet with TIA UK industry members who will be showcasing tennis products and services.
The event is free of charge to attend. Clubs can send 2 people to the event – to reserve places email phil@tiauk.org as soon as possible
TIA UK plans to run similar events in different areas around GB each Autumn
2023 Club Business Report
The 2023 survey for tennis clubs with 8 or more tennis courts is now on-line, the results of which will form the content of the annual Tennis Club Business Report, planned for publication in October.
The questionnaire is on-line at https://online1.snapsurveys.com/tia2023
This is the 4th edition of the report and follows editions published in 2019, 2020 and 2022. Due to the pandemic, there was no 2021 survey undertaken.
DMTT launch on-line auction
TIA UK's official charity, the Dan Maskell Tennis Trust has launched a major on-line auction on eBay from Thursday August 24th to Sunday September 3rd. The funds will be used to support the charity's grant programmes for people with disabilities who play tennis.
There are some amazing lots on offer from the world of entertainment and sport – signed record albums, books, tennis rackets, photos, tennis balls and some special experiences. Use the link for our charity page on ebay to see the individual links are listed for each item. Lots include: signed disks by Elvis and Tina Turner; signed Casper Rudd tennis frame; signed Milos Raonic racket; signed photo of Alfie Hewitt; Tiff Needell driving experience and many more.
Latest LTA One Team Bulletin
The link to the latest issue of the LTA's One Team Bulletin can be accessed here. It includes a range of stories from Wimbledon that are more than the tennis; to the LTA Tennis Awards National Ceremony; the Tennis Blacklist; a fascinating piece about wheelchair testing; a tribute to tennis legend John James and plenty about padel and fun stories from County Cup.
VAR comes to tennis!
The US Open this year will see five courts at Flushing Meadows linked to a type of VAR system controlled via the umpire chairs. This will allow players and officials to request instant replays of contentious moments, in addition to the lines being electronically called. The video technology is being employed on a trial basis, with players allowed to question decisions from the chair and fans to be able to see what is being shown on the big screen. Instances would include whether a ball has bounced twice before being hit over the net, or whether a ball has hit a player.
ATP introduces minimum wage
A "game-changing" new initiative that will guarantee minimum earnings of $75,000 (£59,320) for male tennis players in the top 250 of the world rankings has been announced by the ATP. The Baseline scheme is designed to ensure professionals below the game's biggest earners can cover the costs of travelling to tournaments and hiring coaches and physios.
Baseline is to be introduced on a three-year trial basis starting in 2024 and comprises three pillars. The first, guaranteed base earnings, will see the ATP cover any top 100 player who makes less than $300,000, those ranked from 101-175 who earn below $150,000 and anyone from 176-250 who doesn't earn $75,000.
Players who miss long spells due to injury also have protection, with top-ups of up to $200,000 for the top 100, $100,000 for 101-175 and $50,000 for 176-250 if they play fewer than nine tennis tournaments. And those rapidly climbing the rankings can also access an advance of up to $200,000 on reaching the top 125 for the first time in order to invest in their development over the following year.