Pinsent Masons partners with Tennis Industry Association UK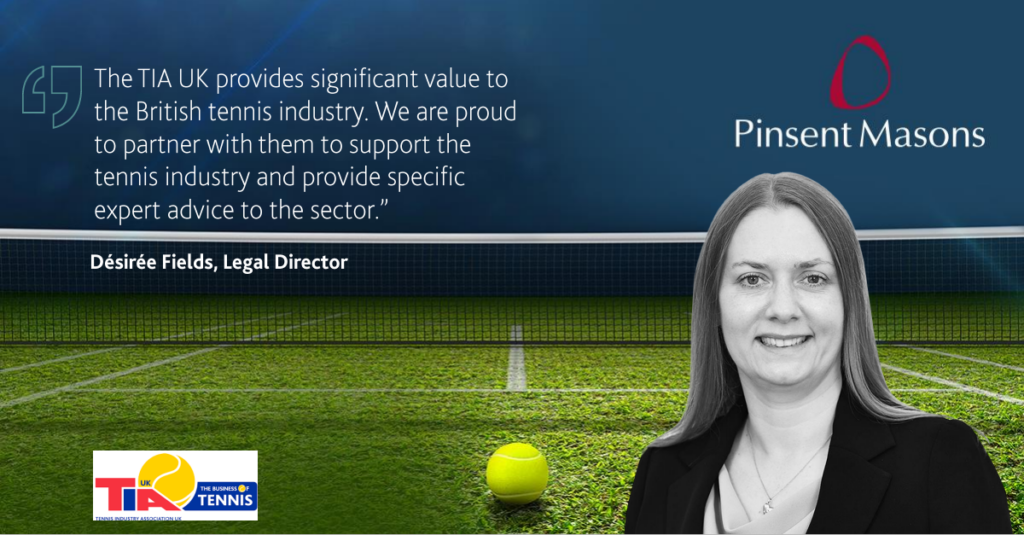 Multinational law firm Pinsent Masons has partnered with the Tennis Industry Association UK (TIA UK), the not-for-profit members association for the UK tennis industry.
Pinsent Masons has a highly specialist and multi-disciplinary sports law team with experience in the sector, with notable clients including World Athletics, Jockey Club and numerous football teams. The firm's sports law team advises on all legal issues in the sports sector, ranging from commercial and media rights, infrastructure, health & safety, real estate management, construction, corporate human resources and insurance.
As well as providing expert advice to TIA UK members in areas such as intellectual property and brand protection, the two organisations plan to collaborate on a range of business matters to support the tennis industry.
Désirée Fields, Legal Director at Pinsent Masons who is heading the sports law group's tennis initiative said: "The TIA UK provides significant value to the British tennis industry. We are proud to partner with them to support the tennis industry and provide specific expert advice to the sector."
Steve Matthews, Chair of TIA UK said: "In a challenging business environment, it is vital that companies and organisations get the best expert advice and support in order to maintain competitive edge and to develop new business opportunities. This beneficial partnership with Pinsent Masons will provide invaluable support for our members and assist the wider tennis industry."
__________________________________________
Pinsent Masons contact:
Désirée Fields
Legal Director
Desiree.fields@pinsentmasons.com
Tel: +44 20 7054 2524
About Pinsent Masons
Pinsent Masons LLP is an international law firm which specialises in the energy, infrastructure, financial services, real estate and advanced manufacturing and technology sectors. The firm ranks among the top hundred law firms in the world by turnover. Pinsent Masons has 26 offices across 4 continents with over 400 partners, a total legal team of around 1,800 people and more than 2,500 staff.
Steve Riley's new venture
Steve Riley, founder of successful parks tennis operator Will to Win, has set up a new company SR Sportservices, becoming the newest TIA UK Industry Member. Steve's vast experience and knowledge is now on offer to clubs, individuals and local authorities for any tennis facility development including the procurement of Padel courts. SR Sportservices offers a complete range of development support from planning permission, construction, sourcing, facility management and revenue maximisation.
Steve's first development under the new company was the Lowther Padel and Tennis Centre in Lytham which houses the first Padel courts in the north-west of England. This has been followed by another Padel development at the prestigious Edgbaston Club, Birmingham
steveriley@srsportservices.com
The rise of Pickleball & Padel – helping tennis or threatening its existence?
The rise of Padel and the potential of Pickleball in the UK and their impact on lawn tennis, is a subject regularly raised within TIA UK and in tennis clubs. The following piece is adapted from a BBC Sport article released on 10th January.
In the US, Pickleball is the fastest growing sporting activity. Seen as a leisurely recreation for older people, it has boomed during the coronavirus pandemic and is the latest string-sibling to emerge from tennis' shadow.
"The tennis court is way too big and there's way too much ground to cover," says former Wimbledon junior champion Noah Rubin, who has switched from tennis' ATP Tour to take "a deep dive" into pickleball."I came across the pickleball court and, like so many others across the States, it clicked for me."
Combining elements of tennis, badminton and ping-pong, pickleball is played on a badminton-sized open court and with a lower net than tennis. Players use solid paddles to hit a perforated and hollow ball, with the physics of the equipment limiting them to how hard and far they can whack it.
The smaller court means there is less running and more emphasis on hand skills. One of pickleball's main marketing strands is stressing its fun and social benefits."You can play anywhere, you just need to throw down lines. It's a sport a nine-year-old can play or a 99-year-old can play," Rubin tells BBC Sport."There is nothing else like it. Pickleball is the most effortlessly accessible sport I've ever seen."
Almost five million people in the US played pickleball in 2021, according to research by the Sports and Fitness Industry Association (SFIA). Over the past five years, the SFIA calculates the number of players has had an annual average growth of 11.5%. Tennis, which has about 22.6 million players in the US, has seen an annual average growth of 4.9%.
Pickleball is not just growing rapidly as a participation sport. Tapping into the power of celebrity and using smart social media strategies have been key in growing it as a consumer sport. The biggest, richest and most high-profile professional league – Major League Pickleball (MLP) – has been expanded to 24 teams and many are backed by A-list ownership groups. Four-time Grand Slam tennis champion Naomi Osaka and Wimbledon runner-up Nick Kyrgios have invested in a new Miami-based team alongside NFL superstar Patrick Mahomes. Another expansion consortium includes legendary NFL quarterback Tom Brady and four-time tennis major champion Kim Clijsters, while basketball superstars LeBron James and Kevin Durant, plus actress Eva Longoria and supermodel Heidi Klum, are also putting in money.
There will be six events across the US for the mixed-gender teams and the prize money pot has increased to $5m (£4.1m). The commercial growth is also enticing professional tennis players to switch over. Rubin, set to compete in his first professional tournament at an Association of Pickleball Professionals event in Florida this week, started playing after becoming disillusioned with the grind of the ATP Tour.
"I was slowing down, I was exhausted with my mental and physical wellbeing, I needed to take a real break from tennis," says the 26-year-old American. The sport allows a diverse range of people to be part of it at every level, allows the fans to get rowdy and have fun, while also allowing the professional players to have a brand. There are fewer restrictions. "I think tennis' restrictions are a struggle for the next generation to understand and a barrier to them playing." Many people in the US tennis community, fearing their sport is wrongly being painted as stuffy and out of date, feel threatened by pickleball's arrival and there is somewhat of a backlash with tennis communities fearing that pickleballers are taking over their space.
In Europe, similar discussions are taking place around padel. Like pickleball, there is more emphasis on technical skills than physicality. It also attracts a celebrity clientele, particularly among retired footballers. Former England captain David Beckham recently declared his "love" for padel, France legend Zinedine Zidane had courts built at his football centre, while their old Real Madrid team-mate Ronaldo recently competed in a 'Legends' event during the World Cup in Qatar. Even greater affirmation came from another superstar this week. Tennis legend Roger Federer, who retired from the sport last year, posted a series of photos and videos of him playing padel with his former coach Severin Luthi.
Padel, developing into its modern guise in Mexico in 1969, is particularly popular in Spain and the nation has 20,000 courts, while tennis champions Rafael Nadal and Juan Carlos Ferrero have long incorporated it into their world-renowned academies.
In the UK, it is also starting to boom. More than 200 courts have been built to serve about 90,000 active players with the Lawn Tennis Association believing padel can be a gateway into tennis, as well as continuing to grow in its own right. Ferrero, who now coaches world men's tennis number one Carlos Alcaraz, agrees there is space in the racquet sport ecosystem for all the variants to thrive."I think they can coexist and make the other one improve," the 2003 French Open champion told BBC Sport."At my academy I see people going from tennis to padel, and also to start padel and then try tennis, and others that enjoy both. They are similar sports but their differences allow the athletes to find what adjusts better for their joy in each moment."
Jevans set to become first female chair of All England Lawn Tennis Club
Deborah Jevans is set to become the first female chair of the All England Lawn Tennis Club (AELTC) later this year, the organisation has announced. Jevans has been elected as vice-chair of the AELTC, and is due to succeed outgoing chairman Ian Hewitt at the conclusion of this year's Wimbledon Championships.
Jevans, a former director of sport for the Organising Committee of the London 2012 Olympics and Paralympics and director of women's tennis at the International Tennis Federation, competed in singles at the French Open, Wimbledon and the US Open during her playing career.
UK Government reduces energy subsidies and says leisure sector is not an 'Energy and Trade Intensive Industry'
The UK government has announced it will be scaling back financial support for businesses as part of the updated Energy Bill Relief Scheme (EBRS). Treasury support has been capped at £5.5bn for the year from 1 April 2023, more than £10bn less than the scheme designed for the winter from 1 October 2022 to the end of March.
The government said that the EBRS was only intended to be a six-month emergency scheme and that "the latest data shows wholesale gas prices have now fallen to levels just before Putin's invasion of Ukraine and have almost halved since the current scheme was announced". It said that the new scheme "strikes a balance" between "supporting businesses over the next 12 months and limiting taxpayer's exposure to volatile energy markets".
UK Active released survey data in November 2022 showing that even under the previous scheme 40 per cent of council areas were at risk of losing their leisure centres – including 100 swimming pools – or seeing reduced services before 31 March 2023. Around three quarters (74 per cent) were predicted to close or reduce services by 31 March 2024. UK Active said "The failure to categorise certain services, especially swimming pools, as 'intensive' energy users requiring more bespoke support is a significant oversight given the overwhelming evidence provided to the government on their energy use."
It is unclear why business activities such as museums and historical sites have been classified as "particularly vulnerable to high energy prices" and "energy intensive" – referred to as Energy and Trade Intensive Industries or ETIIs – and therefore entitled to a higher level of financial support, while leisure centres and swimming pools have been excluded."
UK Active wants to work with the government to ensure the leisure sector is categorised as an ETII and to minimise the inevitable restrictions and closures.
ITF ends $3bn deal with Gerard Pique's company to run Davis Cup after less than five years
The International Tennis Federation is to end its deal with ex-footballer Gerard Pique's company to organise the Davis Cup after less than five years. The ITF and Kosmos announced a 25-year, $3bn partnership in 2018 and have since made widespread reforms. They included changing the format of the 123-year-old tournament to an end-of-season 'World Cup-style' event, which was controversial among players. The ITF says it has "ensured financial contingencies are in place". The deal was also due to provide an extra $25m a year for tennis development globally.
Kosmos later determined that the deal was not going to be financially sustainable given the economic climate and tried to renegotiate. It is understood that the terms proposed were not acceptable to the ITF Board, which will now need to develop new commercial partnerships to finance the Davis Cup and the global development of the sport.
As a result of this action, we learn that Kosmos has responded by filing a multi-million dollar lawsuit at the Court of Arbitration for Sport for what it calls the "unjustified termination of the contract between both parties for the organisation of the Davis Cup for 25 years, and for damages to the company."
Tennis Wales awarded £75,000 from Welsh Government to improve diversity in tennis
Tennis Wales has been awarded nearly £75,000 by the Welsh Government to create a new national programme for Wales aimed to support more young people from ethnically diverse communities to access the sport. Delivered as part of the LTA"s SERVES initiative – a GB wide project supporting under-served communities to take part in tennis – the programme will include weekly tennis sessions across 12 locations in Wales.
A new role will be created at Tennis Wales to work with diverse communities and the grant is being awarded to support delivery of the Welsh Government's Anti-Racist Action Plan. Tennis Wales joins 21 other organisations in receiving funding to help deliver the action plan.
Putting the record straight!
In the last newsletter we stated that The Queen's Club won the 2022 Tennis Grounds Team awarded by the GMA. How embarrassed were we then when we were told The All England Club had actually won it! The offending item must have been penned following the Xmas lunch!
Many apologies for this error and congratulations to Neil Stubley and his team!