TIA UK Spring Forum – final call
In conjunction with our sponsors Pinsent Masons LLP, a new Spring event is taking place on April 18th. As well as an excellent networking opportunity for members, the event's main objective is to gather intelligence across a range of tennis activity to assess the economic health of the sport in the UK. Highlighting data and hearing from tennis leaders of their own experience will help the industry be better informed. The Forum will also attempt to look forward and guage the areas of potential growth and the associated challenges.
There are only a few places left for the Forum which is free to attend and includes a buffet lunch. The event takes place at the offices of Pinsent Masons near Liverpool Street. If you wish to reserve a place contact phil@tiauk.org as soon as possible as the attendance list will close shortly.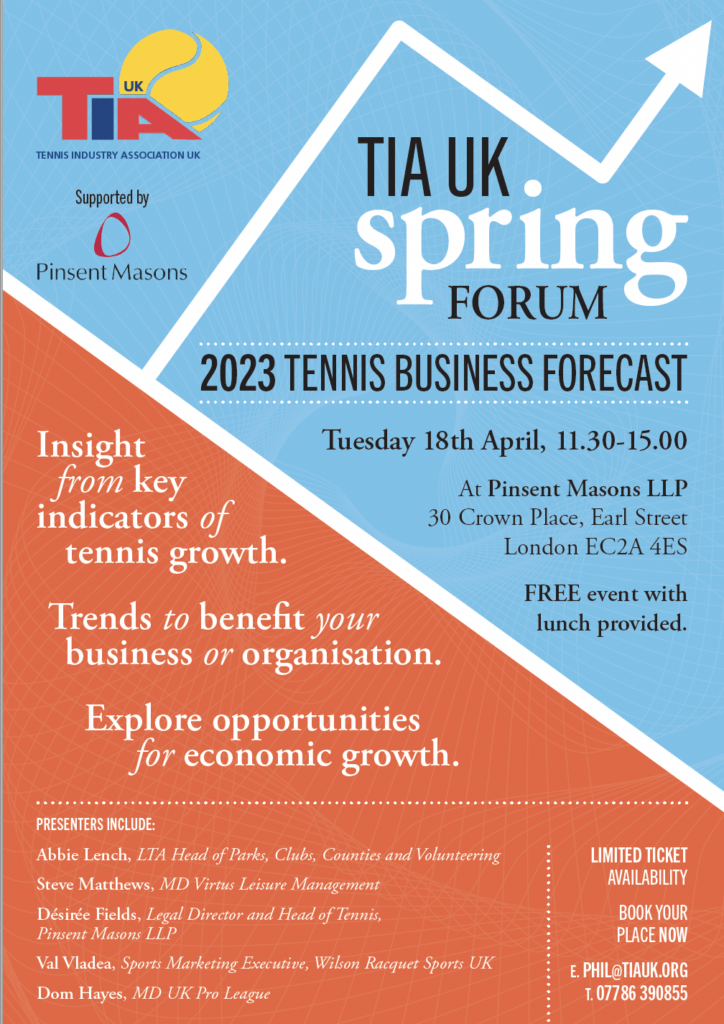 Tennis Wales does business at the NTC
This year Tennis Wales collaborated with the LTA, Welsh Sports Association and Wales in London to welcome sponsors, partners and Welsh guests to the NTC to celebrate St David's Day. The event featured a buffet networking lunch, panel Q&A with the LTA, Tennis Wales and Welsh Sports Association, and an opportunity to jump on court and try Padel, cardio tennis and play on the clay courts.
The aim of the event was to raise awareness of the association's work in Wales, as they welcomed Members of Parliament and colleagues from the Welsh Government to the event. As a result, a number of new business connections were created which they hope will lead to greater support in the future, helping open tennis up further across Wales.
CVC finalises $150m investment with WTA
The Women's Tennis Association has announced the closing of its agreement with CVC Capital Partners that will see the private equity company invest in a new commercial vehicle for the organisation.
CVC will be WTA's commercial partner investing capital and 'acting as a catalyst to drive growth of the sport'. Key focus areas include providing fans with more access to the sport, investing behind the Tour brands, building player profiles and investing in digital platforms and commercial capabilities.
Supporting the TIA UK's charity – how you can help support the Dan Maskell Tennis Trust
As the official charity of the TIA UK, the DMTT aims to raise money to help disabled people to play tennis, funding such items as tennis wheelchairs, coaching fees and court hire. The Trust operates primarily, but not exclusively to support wheelchair, deaf, learning disabilities, blind and visually impaired tennis.
Here are a couple of ways your company should consider supporting disabled people who play tennis.
Easyfundraising…
Just by signing up and nominating the Dan Maskell Tennis Trust, whenever you make your everyday business purchases, whether you're buying office supplies, technology, booking travel or anything else, you could be raising FREE donations at no extra cost to you.
7,000 retailers are part of the Scheme and shopping is either via the easyfundraising website to see the full range of retailers, or using their donation reminder tool. Please see https://www.easyfundraising.org.uk/register-your-business/ for full details.
Play golf!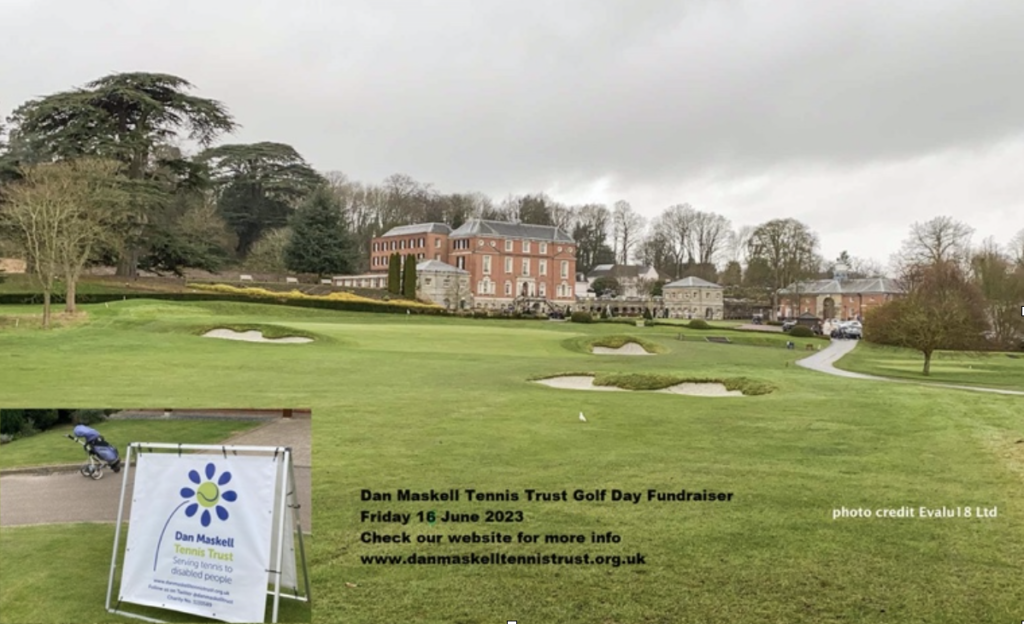 The Dan Maskell Tennis Trust's major annual fundraising event – the Golf Challenge – takes place this year on Friday 16th June at the RAC Club, Woodcote Park in Surrey. Why not get a team from your workplace or friends to support the charity?
Full details can be found at https://www.danmaskelltennistrust.org.uk/golf-day/, together with an entry form.
For any questions please email Gilly@danmaskelltennistrust.org.uk
Tennis Wales Awards 2023
The Tennis Wales awards were held on the 23 February in a marquee at Cardiff Arms Park, recognising the inspiring achievements of the Welsh tennis community. 190 guests from across Wales and the UK were treated with a speech from paralympic champion Baroness Tanni Grey-Thompson and a Q&A session with ex-Welsh rugby legend Ryan Jones. The event hosted by Simon Clarke of Speakeasy Club, recognised the shortlist each of the 16 categories as well as awarding the overall category winners with their trophies.
Awards were presented to each winner by special guests including the Head of Sport and Leisure of the Welsh Government, the LTA, Sport Wales, guest speakers and sponsors Dragon Signs, Floodlighting and Electrical Services and Genero Productions. A quiz at the ceremony also helped to raise £600 for the NSPCC Wales. Winners of 12 of the categories will now be put forward as nominations at the LTA tennis awards being held on 19th May, against other regional winners. A full round up of the event can be found here.
'Play Your Way to Wimbledon' expands to include adult and disability categories for 2023
The LTA and The All England Lawn Tennis Club have announced that Play Your Way to Wimbledon, powered by Vodafone, will return in 2023, with this year's national competition expanding to include a number of disability categories and additional events for adult players.
Play Your Way to Wimbledon is the UK's largest individual mass participation tennis competition which provides players with the opportunity to compete on the world-famous grass courts at Wimbledon. 2023 sees the competition open-up to more players, with nine regional disability events split between Visual Impairment, Learning Disability and Wheelchair tennis categories acting as qualifying tournaments.
Meanwhile junior players will once again compete through 14&U singles and 18&U doubles competitions across England, Scotland and Wales. Starting at their local venue, the winners will progress to County or Area Finals, and then the winners and runners-up of these events will advance to the National Finals held at the All England Club in August.
The expanded competition also marks the introduction of an adult pathway, where doubles players will have the opportunity to compete at their local venue, with winners moving forward to Area and National Finals. To ensure the participation focus of the competitions, all players participating in the junior and adult singles and doubles pathways will have an ITF World Tennis Number between 20.0 and 40.9.
Play Your Way to Wimbledon aims to inspire players to compete and help continue to grow grassroots tennis in the UK. In 2022, the competition saw more than 10,000 playing opportunities across 700 venues.