Weave support for your company
TIA UK member James Sohl has founded management consultants, Weave Consultants Ltd. James and the Sohl family previously owned and operated Sutton Tennis Academy, The Sports Village and the Sutton Tennis Centre for 26 years. In that time extensive experience was accrued within the tennis industry in coaching, sports science, management, facility development, staffing, programs, expansions and diversification. Other significant business involvement has been a long-term 30+ year consultancy with IBM and AELTC with regard to statistics and their application on television.
Weave believes that it is highly skilled at seeing opportunities that can add value to a business whether for tennis clubs and venues, manufacturers, brands or single owner businesses. Businesses can benefit from Weave's expertise in a number of ways such as problem solving; operational cost savings; independent advice and support on specific projects; change management and 'adding value' partners to operations.
Varied commissions taken on by Weave include achieving significant R&D tax credits; business planning for new sports projects; developing new products for motorsport; engineering a fan-based commission programme to support the finances of a sports club.
James is happy to spend time with any TIA business to discuss their needs. This could be a Zoom call or a physical visit. No fee is charged until such time as a scope of work is agreed and a fee proposal developed and agreed. Ultimately the goal is to provide advice and guidance which adds value to your business.
James Sohl on 07946 517556
Email: james@weave.co.uk
Unique tennis student wellbeing event held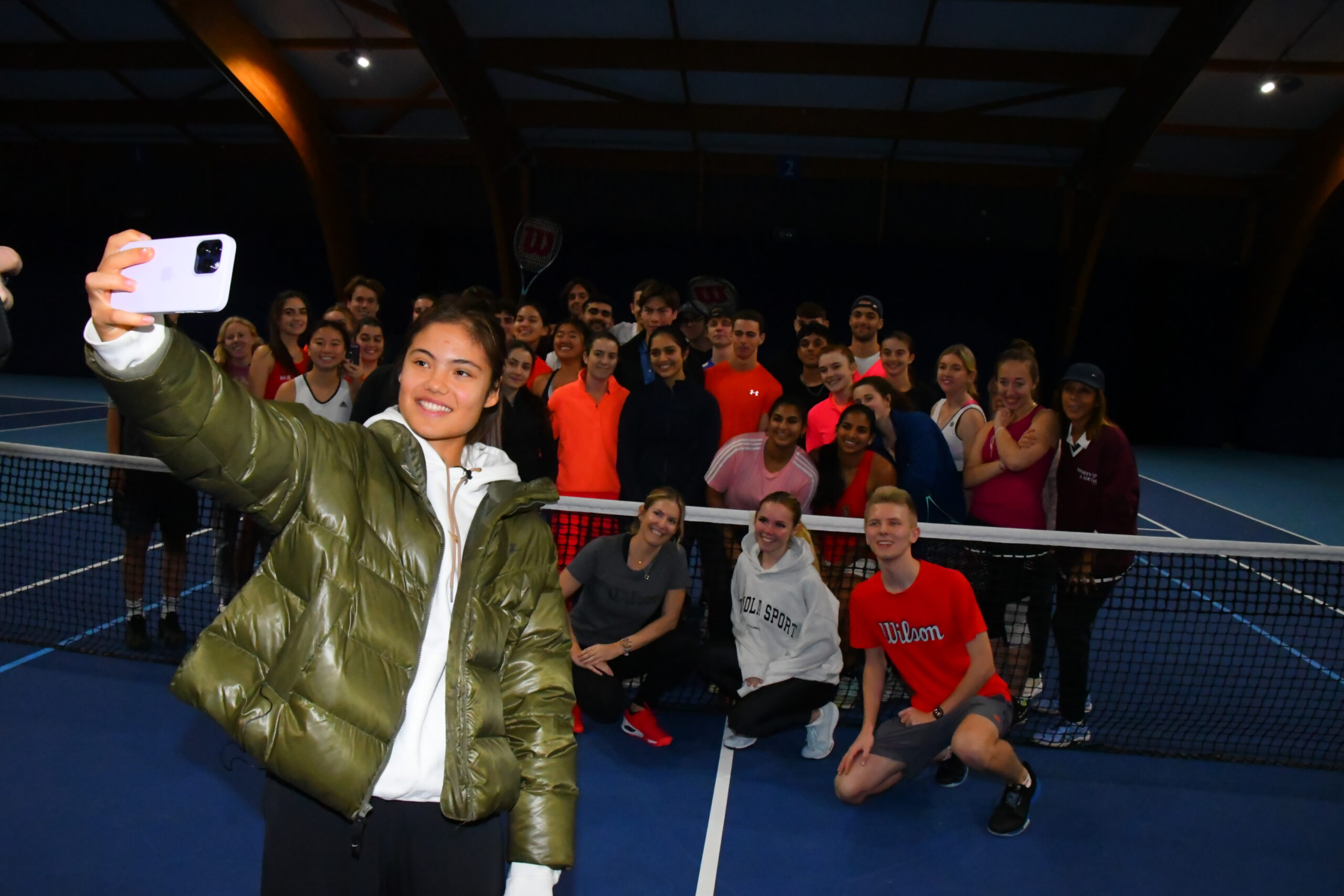 On 20th November, TIA UK teamed up with Virtus Leisure to host 'Wilson X King's College London Tennis Student Wellbeing Event' at Bromley Tennis Centre. The event celebrated the ground-breaking partnership between KCL Tennis and the Global Number 1 tennis brand with a focus on promoting wellbeing amongst students ahead of a busy exam season.
The event kicked off with a series of wellbeing centred on-court activities. The first was cardio tennis, where TIA Communications Consultant and Wilson tennis coach, Jonathon Dawes put KCL teams through their paces using a series of drills, games and matches derived from the new LTA Cardio Tennis Resources on the Coach Secure Page, available to all accredited coaches. Alongside cardio tennis, Val Vladea from Wilson organised a serving challenge, where all students went head-to-head to try and record the fastest serve in the pursuit of being named 'King's College London's Fastest Server' and winning a Wilson bag worth £75.
Industry leading fitness coaches Chlo Wilkinson and Stephanie Cowton teamed up to deliver a HITT and power yoga session with KCL Students. Both sessions enabled students to try something new while equipping them with exercises they can employ to manage stress and remain energised throughout a busy exam season.
After the conclusion of wellbeing centred on-court activities, 2021 US Open Champion and British Number 1, Emma Raducanu joined KCL students and participated in a Q&A session and met with the Member of Parliament for Maidstone and Prime Ministers Special Envoy for Girls' Education, Helen Grant MP, with LTA Deputy President Sandi Procter. Emma concluded her visit by hitting the UV tennis court and playing points with some of the students.
LTA and ITF sign international treaty to support women and girls in sport
The LTA and ITF have joined over 600 global organisations as signatories of the International Working Group on Women and Sport's Brighton plus Helsinki Declaration. The official signing took place on Sunday 6th November at the welcome reception for the 2022 Billie Jean King Cup by Gainbridge Finals in Glasgow.
Created in 1994, the Brighton Plus Helsinki Declaration comprises 10 Principles designed to help organisations develop a culture and ways of working that enable and value the full involvement of women at all levels and in all capacities.
As signatories, the LTA and ITF commit to upholding the 10 principles that enable women and girls to freely and safely participate, compete and build careers in sport and physical activity. This adds to both organisations' existing work to further gender equality in tennis.
Through their respective gender equality strategies, She Rallies and Advantage All, the LTA and ITF have already set clear goals and actions to build on tennis' tradition as a global leader for equal advantage in sport and society, and further strengthen that commitment and collaboration with this declaration.
ITF controversial take-over of Padel falls short at AGM
The International Padel Federation (FIP) has filed an appeal to the Court of Arbitration for Sport (CAS) seeking to stop what it characterises as a "hostile takeover" of padel governance by the International Tennis Federation (ITF).
The agenda for the ITF Annual General Meeting (AGM) included a vote to "adopt the discipline of padel" and assume governance for the discipline. This, the ITF says, would be similar to what happened with beach tennis in 2008, but the FIP has reacted furiously and filed a case with the CAS. The ITF stands accused of breaking the terms of an agreement signed by the ITF and FIP in 2019, as well as the Olympic Charter.
However, the controversial proposal failed to receive the support from the required two-thirds of members attending the ITF's annual general meeting in Glasgow in November.
European tennis growth revealed in new report
Research undertaken for Tennis Europe by TIA UK member Sporting Insights (formally SMS) has been published in the 2022 European Tennis Report. The results of the study examining the tennis ecosystem in 48 countries reflects a sport undergoing a post-pandemic resurgence, and reveal positive trends in participation, affiliation, facilities, and performance across the region.
Key findings include:
European participation rates are up by 4.6%
Tournament numbers have bounced back strongly since the pandemic
Club membership has increased by 6.6% to 5.7 million
More tennis clubs exist in Europe than at any time since 2009
5 nations – France, Germany, Great Britain, Italy & Spain – account for 75% of all European players
8,000 newly qualified coaches are working in the sport since 2018
The report is a unique source of statistics and is designed to present the most accurate possible snapshot of European tennis, including national and regional figures for recreational, licensed, and professional players, club membership, clubs, courts, coaches, and international tournaments.
The full 82-page report is available free-of-charge and can be found here in pdf format. Key data can also be viewed on the interactive dashboard (best viewed on a desktop browser).
First published in 2009, the fifth European Tennis Report is the result of a triennial survey of Tennis Europe's constituent national tennis federations, conducted in association with sports industry research leaders Sporting Insights.
ATP and WTA launch mixed-gender United Cup
The ATP and WTA are to launch a new mixed national team event known as the United Cup and organised by Tennis Australia. Set to be staged in various cities ahead of the Australian Open, the new event will replace the ATP Cup.
It proposes to feature 16 nations with each tie featuring men's and women's singles matches followed by a mixed doubles rubber.
ATP, ITF & Kosmos Announce Davis Cup Partnership
The ATP, International Tennis Federation (ITF) and Kosmos Tennis have announced a strategic alliance from 2023 supporting the Davis Cup by Rakuten. The new partnership has been established to enable strategic collaboration on the competition's governance and evolution, with ATP granted two of six seats on a newly formed Davis Cup Event Committee alongside the ITF and Kosmos, long-term investors and promoters of the competition. The partnership officially brings ATP and ITF together across Davis Cup for the first time in history in a combined effort to maximise the success of the historic team competition as the men's World Cup of Tennis.
David Haggerty, ITF President: "This announcement heralds an important new alliance between the ITF, Kosmos and ATP which further strengthens the importance of team competition and Davis Cup's unique role in elite men's professional tennis. Part of the Olympic Qualification Pathway, Davis Cup is the largest annual men's team competition in sport and the sole men's team competition in the pro tennis calendar where teams are officially selected by their nation. Together with the women's Billie Jean King Cup, it shows the ITF's full commitment to delivering spectacular tournaments that players love to play and electrifying battles between nations which fans in the stadium and whole countries love to get behind."
Barclays replaces HSBC at Wimbledon
The AELTC has announced a new multi-year sponsorship deal with Barclays Bank. The agreement sees Barclays become 'Official Banking Partner' of Wimbledon from 2023, after 15 years with HSBC.
Tennis Australia launches start-up program to drive tech at Australian Open
Tennis Australia has launched an accelerator program for tech start-ups in a bid to introduce technological innovations at the Australian Open. The new incubator, AO Startups, is part of a multi-year partnership between Tennis Australia's venture capital fund, Wildcard Ventures, and capital market firm Techstars.
AO StartUps will provide emerging technology companies with the chance to test their business models and directly access proprietary intel at the Grand Slam event, with successful companies also securing valuable brand exposure. In order to improve the athlete experience, the program is on the lookout for start-ups that can assist in coaching, performance analysis and injury prevention.
To augment event experience, start-ups that can improve stadium tech, media, e-sports, climate action and paddle tennis are welcome to participate as well. AO StartUps is calling for early-stage tech companies to make their case by December 14 for admission into the Australian Open in 2023.