Reserve your place now for our 2023 Xmas lunch
You can now reserve your place at the 2023 Tennis Industry Xmas Lunch which will take place at The Queen's Club on Thursday November 30th. Tickets (inclusive of VAT) are priced at £66 for TIA UK members and a pair of tickets for 1 TIA member plus a guest costs £132. Non members can purchase tickets at £84 each.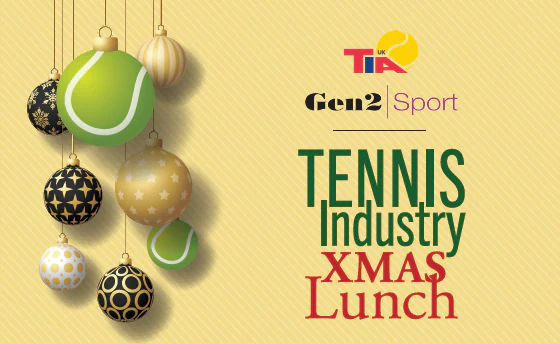 This annual event, now well established in the tennis calendar, is expected to be another sell-out. You are advised to contact phil@tiauk.org as soon as possible to reserve tickets which are issued on a first come first served basis.
2023 Tennis Club Business Report
The on-line survey for this year's report will close shortly. All tennis clubs with 6 or more tennis courts are welcome to participate. The data submitted will not be shared and will be anonymous for the purposes of the report which is due to be published in early November. Here is the link to the survey:
https://online1.snapsurveys.com/tia2023
Engaging with your broker
TIA UK's insurance partner Gen2 Group has recently produced a thoughtful document that will be of value to all those dealing with insurance. The content aim is to drive behaviour change in how to engage and view brokers and the role of appointing the right broker for your business. The document has had very positive feedback and is a recommended read as it sets out an improved (and simple) insight into the process
Tennis Workshop and Tennis Mart
Regrettably, the new Tennis Workshop planned for October 5th, hosted at the Wolverhampton Lawn Tennis and Squash Club has had to be postponed until a later date. Phil Sandilands, TIA UK General Manager said 'unfortunately and in hindsight we probably didn't have sufficient time to fully market the event to tennis clubs in Staffordshire and within its neighbouring counties. However we believe the concept of bringing operators and suppliers to network together at a single tennis event is sound and we will consider with our industry members the best way to deliver this for the future'.
ATP and WTA holding talks
Talks between the men's and women's tennis tours about working together more closely are unlikely to lead to a merger, according to sources close to the process. The ATP and WTA met in London in September principally to discuss pooling their broadcast and commercial rights in a bid to increase the value.
The women's tour generates only around half of the ATP's approximately $175m (£140m) revenue. One of the reasons that discussions about cooperation between the tours have resurfaced is the fear that Saudi Arabia could seek to launch a tennis equivalent of its LIV Golf tour.
The oil-rich Gulf nation is already making moves in the sport as it seeks to build on its investments in golf and football. Jeddah will host the ATP Tour's Next Gen Finals from 2024, while Saudi officials have also held exploratory talks with the WTA and player organisations such as Novak Djokovic's PTPA. A lucrative Saudi-backed tennis circuit that lured some of the game's leading names could play havoc with the established tours, as LIV has in golf. But one barrier to that plan would be the relative scarcity of venues able to stage top-tier tennis tournaments.
City AM – 13 Sept
Pickleball growing from strength to strength
Over in the US, more signs that Pickleball continues its global expansion by attracting significant investment. Leading professional Pickleball organisations 'MLP by Margaritaville' and 'Carvana PPA Tour' this month announced an agreement to merge under a unified and definitive professional pickleball holding company. The consolidation of the two entities is backed by a $50M investment. The merger combines the leading individual and team-based professional pickleball formats into a single parent company, equally supporting and promoting both MLP and the PPA Tour.
Meanwhile, back here, the Times commented on Sept 23rd that Pickleball is 'the hottest game in town' and being 'embraced by Brits with gusto'. The number of UK clubs offering Pickleball has doubled to almost 400 in just 2 years and there are now more than 12,000 registered players.
Sports Minister marks transformation of 1,500 park tennis courts
After visiting a refurbished park, Sport Minister Stuart Andrew has encouraged Brits to give tennis a go as 1,500 public tennis courts across England, Scotland and Wales have now been transformed as part of over £30 million worth of investment. The Sports Minister Stuart Andrew and LTA Chief Executive, Scott Lloyd hailed the completion of 1,500 park courts across Britain at the recently renovated Buile Park in Salford. They joined a family tennis session and spoke to members of the community who were enjoying newly refurbished courts.
Sports Minister Stuart Andrew said, "Having easy access to high quality sport facilities is vital to staying fit and healthy. These park tennis courts in Salford are just a few of the 1,500 recently renovated thanks to the £30 million partnership between the Government and the LTA. We're giving thousands of people across the country more opportunities to play tennis and getting people active in previously underserved communities."
We have been working with Salford City Council and local authorities across Greater Manchester to transform facilities and inspire Brits of all abilities, ages, and backgrounds to pick up a racket and play, with £1.7million already invested into 40 parks with tennis courts across Greater Manchester. This includes an investment of £662,743 across eight Salford City public parks, as part of which the council contributed £206,652.
The £30 million package, through which £21.9 million has been committed by the UK Government and £8.4 million by the LTA Tennis Foundation, is the most significant investment in parks tennis courts across Britain for a generation.
The investment reflects the UK Government's commitment to getting an additional 3.5 million Brits physically active by 2023 by opening up more opportunities to play tennis on high quality upgraded public tennis courts.
All 1,500 completed courts and other across Britain are bookable on LTA PlayTennis with digital gate access systems installed across sites, to make finding, booking and getting onto court as easy and secure as possible for tennis players across the country.
LTA CEO Scott Lloyd, who joined the Sports Minister at the newly refurbished courts at Buile Park, said, "We are delighted to have transformed 1,500 park tennis courts across Britain as part of this investment in park tennis facilities by the UK Government and LTA Tennis Foundation.
"We're continuing to work with hundreds of local authorities across the country to transform more park tennis courts, making it far easier to find a court and book, and ensure a range of engaging activities and free tennis sessions are available for people of all ages and backgrounds to take part in.
"It's great to see how courts like these in Salford will benefit local communities across Britain, and help provide opportunities for many more people to pick up a racket, get on court, and enjoy playing tennis."
LTA News – 19 Sept