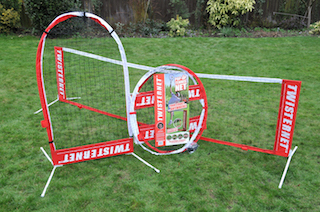 LTA registered tennis clubs get 20% off equipment products via 'Advantage' – the TIA UK discount equipment brochure.
Twisternet and Kollectaball are new products in the marketplace and both are making big waves with their innovative equipment.
Twisternet is an ingenious solution for any coach who is tired of spending 30 minutes unfolding and assembling a mini tennis net, only to have to disassemble and fit it back into a bag that's too small for the appliance! With Twisternet simply pop it out and then fold it away when finished; no assembly necessary!
Kollectaball is a revolutionary method of collecting sports balls that was a result of a combined 50 plus years of picking up tennis balls and wondering why there was not a quick, easy, fun and affordable solution. It has now expanded into five different continents and collects over 8 different types of sports balls.
The road from idea to innovation is not an easy path, nor is it for the faint hearted. With problems of sourcing raw materials, manufacturing, packaging, shipping, warehousing, marketing and selling to overcome, it is no wonder why so many small business' inventions fail before their product can even be bought to market.
But despite the challenges faced, these two entrepreneurial companies have managed to succeed in taking their innovative ideas, spawned from their passion for tennis, and transitioned them into complete, tangible, finished articles. Now, Kollectaball and Twisternet, have joined together to help each other overcome the final and most difficult hurdle, selling their products.
The two companies, as members of the TIA UK, were put in touch with each other and have been sharing ideas on sales strategy and marketing to better improve both products and their ability to penetrate the tennis market. Both companies have succeeded remarkably well in creating a product and bringing it to market and through increased collaboration and networking, could well become the 'must have appliances' for all tennis clubs and coaches.
Recent buyers of Twisternet and Kollectaball include Leicester, Putney, Walton, Roehampton and Carisbrooke tennis clubs, Craiglockhart and Bromley Tennis Centres, David Lloyd Cardiff and organisations such as Tennis for Free, The Tennis Foundation, Teddy Tennis and Bright Ideas for Tennis.
LTA registered tennis clubs and venues can now get 20% off these and other top-quality products via 'Advantage' – the TIA UK member discount equipment brochure.
To download your copy of the Advantage brochure go to https://www.tiauk.org/club-offers