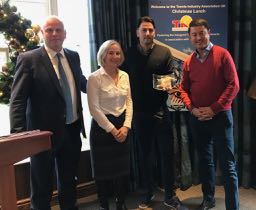 Fibodo and Zenniz are the winners of the Tennis Industry Association UK's (TIA UK) inaugural Tennis Innovation Awards. The announcement was made by TIA UK's Chair Steve Matthews at a tennis industry lunch at The Queen's Club on December 13th.
The winner of the 'UK-developed and Owned' category is fibodo, an on-line platform developed for sport and tennis that makes it easy for players to find, book and pay for activities, with built-in advanced retention and marketing tools for venue management.
The winner of the 'Overseas Innovation' category is Zenniz from Finland, a game-tracking system using acoustic technology that delivers real time data right next to the tennis court.
The new Tennis Innovation Awards supported by tennishead magazine have been launched by the TIA UK to recognise products and services marketed in the UK that have been judged to make the most positive impact to the delivery or presentation of tennis over the past 3 years.
The 7 judges, key leaders chosen from a range of tennis-related industry sectors, assessed entries based upon? 3 key criteria: firstly, the creative idea and how it changes/could change the way people engage with tennis; secondly, the execution of the idea and, finally, communication to its target market.
There were 12 entries for the inaugural 2017 awards, 9 of which originated from the UK. They included digital apps, tennis equipment, training aids and specialist learning resources, all developed to deliver new and innovative ways to engage in tennis.
Anthony Franklin, Founder CEO of fibodo said:
"I would Like to thank the TIA UK for rewarding fibodo with the Innovation 2017 award, in association with Tennishead. It is greatly appreciated by everyone at the company, providing us with the drive to continue innovating and breaking down the barriers to participation in Tennis.

Making a positive impact in the Tennis industry is a key goal for fibodo, and we're looking forward to announcing a number of key partnerships in the New Year, that will bring new audiences to the Sport.

I would like to invite all Tennis Clubs & Coaches that are keen to embrace technology to get in touch. The more feedback we receive at the moment, the more we can refine our platform so it meets the needs of all Club, Coaches, Members and Social Players alike."

We believe technology should work for Tennis, make things simple, and we appreciate that the TIA UK has recognised this."
Jamey Quek, Sales Director UK for Zenniz said:
"The Zenniz team are delighted to receive the TIA UK Innovation award for 2017.  It was a privilege and an honour to be part of this years TIA UK's Awards event. After a number of years in research and development to bring a new technology to the tennis community, the recognition provided by The Tennis Industry Association caps a fantastic first year for Zenniz in the UK.

Zenniz provides an ITF approved game tracking solution to players and clubs that not only elevates on court experience but also helps to improve performance at all levels. Through our innovative technology and data application, Zenniz hopes to increase participation and coaching experience in tennis throughout the UK.

We would also like to thank the Judging panel, Tennishead Magazine and TIA UK for providing an invaluable platform to showcase our new technology to key individuals from a range of sectors across the tennis industry.

We look forward to 2018 and hope you can all enjoy the Zenniz experience at a local Club, Academy or University near you very soon."
Steve Matthews who also chaired the Awards Judging Panel said:
"Tennis is a sport that quite rightly protects and values its traditions, but like all sports it needs to balance this with customer lifestyles and new technologies in order to sustain and grow. Other sports may have embraced technology more readily but there is certainly a lot going on in tennis that people don't know about!

"TIA UK is dedicated to promoting tennis businesses in the UK and the Innovation Awards is a perfect vehicle for us to help promote both start-ups and established companies new to tennis with innovative products and services that will enhance the tennis experience for all".
Details of all 12 entries for the 2017 competition can be seen HERE